Merit Badge Palooza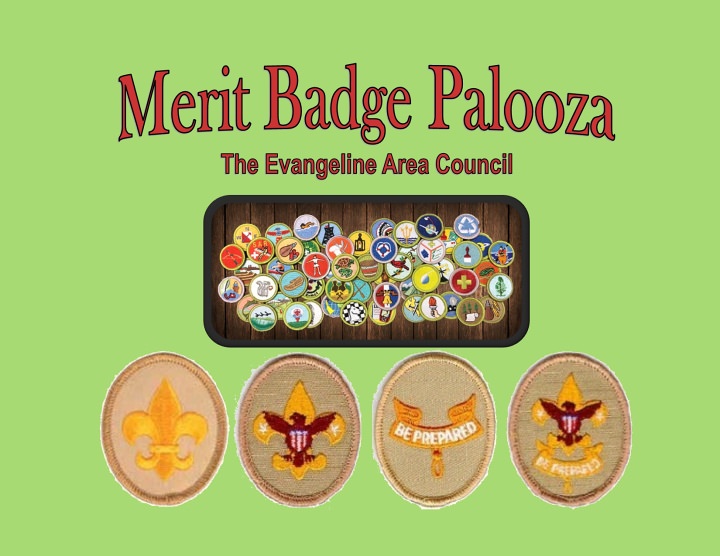 We are introducing our first ever Merit Badge Palooza!
This event will be held over the course of 5 days, July 20-24th. The scouts will get a chance to choose from a list of merit badges each day to attend.
Merit Badge Palooza will be held at the Northwood United Methodist Church in Lafayette.
The classes will be taught in a vertical schedule, allowing scouts to have the chance to complete a merit badge within a day span. If a scout registers for merit badges all 5 days, they will have the opportunity to complete and receive a total of 5 merit badges (one per day).
We are also offering a First Year Program on Monday-Wednesday, July 20-22. This is for any scout that needs to complete Tenderfoot, Second Class, and First Class requirements, as well as the Firem'n Chit and Totin' Chip. If they choose to, a FYP scout has the opportunity to earn two merit badges on Thursday and Friday.
Merit Badge Palooza is comprised of daily events, no camping. A scout can register per day or all week at a discounted rate.
Day- $30
All Week- $120
Schedule
8:30 - Drop-off/Check-in
9:00 - Classes begin
12:00pm - Lunch
1:00 - Classes resume
3:30 - Pickup
There will be breaks throughout the day to sanitize the desks, tables, & hand washing.
Health Guidlines
As always, the safety of our Scouts, volunteers, and communities is our top priority. We will be following all of the proper protocols when it comes to COVID-19 and the safety regarding it. We will be checking temperatures at the door each day when the scouts and instructors arrive. We will verify that handwashing, hygiene and cleaning supplies are available and used properly and as often as necessary. Both instructors and scouts will be wearing masks. If your scout already has a mask, please have them bring it, if not then we will have masks to supply. During each class and throughout the day, the scouts will follow the guidelines of staying six feet apart.
Merit Badges
The list of merit badges being offered will appear on this page as soon as they start being developed. Periodically check this page for the announcements of new merit badges. Emails will be sent to notify when merit badges have been added. We are working diligently on finding classes to offer and the instructors to teach them.
Registration is expected to be July 6th, and we will notify the units and parents when the time comes closer.
We are in search of a few more instructors willing to teach; if you are interested in teaching a merit badge please contact Logan Cormier at logan.cormier@scouting.org
Here are the Merit Badge Classes being offered and the capacity for each class.
(capacity for each class is determined by the size of room that the class will be in. Social distancing of 6 feet apart has been accounted for)
Monday, July 20
First Year Program (FYP) - 25 scouts
Art - 15 scouts
Pioneering (this class will take two days to complete; Monday & Tuesday)- only $30 not $60
Prerequisite: Scouts should be familiar with knowing how to tie the knots and lashings in 2b & 2c.
Tuesday, July 21
First Year Program (FYP) - 25 scouts
Citizenship in the World - 20 scouts
Railroading- 20 scouts
Wednesday, July 22
First Year Program (FYP) - 25 scouts
Personal Management - 20 scouts
Thursday, July 23
American Culture- 20 scouts
First Aid- 25 scouts
Search & Rescue- 15 scouts
Friday, July 24
Orienteering - 20 scouts
Emergency Preparedness- 15 scouts
Please review the prerequistes for this class which can be found on the bottom of this website page.
| File Name | Description | |
| --- | --- | --- |
| Emergency Preparedness Merit Badge Prep Sheet | | Download |