AbraCUBdabra Cub Camp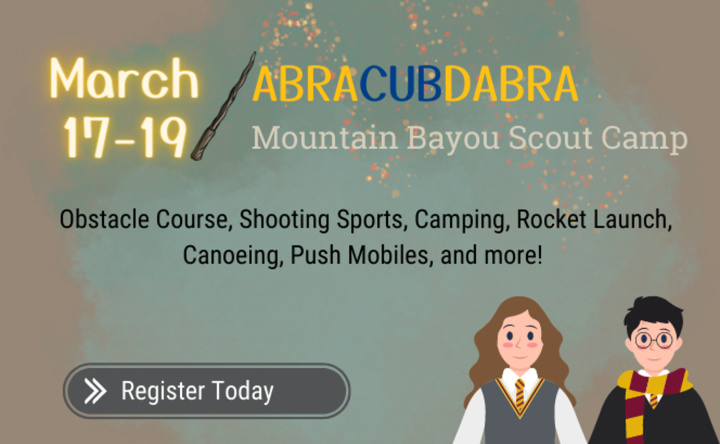 Cub Scouts,
Who is ready to spend a weekend at Hogwarts? Abra Cub Dabra is a new fun-filled event that will test your Cub Scouts' abilities. This is a great opportunity to show off your Scout skills.
What is it?
This campout will have different events for the packs to participant. The pack will move event to event in a round robin style.
Events:
1. Defense Against the Dark Arts - Shooting Sports (BB guns, Archery, and Sling Shot)
2. Canoeing
3. Herbology Nature Hike
4. Charms Craft
5. Care of Magical Creatures
6. Potions - Black Pot Cooking
7. Rockets
8. Hagrid Motorbikes - Push Mobiles
9. Scavenger Hunt
10. Quidditch World Cup
Abra Cub Dabra is a family affair, so bring the whole family!
Registration is on a first come, first serve basis! It has a limit of 500 campers to insure proper staffing and supplies. Early Bird Registration deadline is 2 weeks prior to the event.
Dinner on Saturday and Breakfast on Sunday will be provided.
Personal Pizzas are available to purchase for $5 at the Lost Bayou Trading Post for Saturday's Lunch.
Abra Cub Dabra Location and Date:
Mt. Bayou Scout Camp
March 17-19, 2023
Fees:
Youth - $30 reg/ $40 late
Adult - $20 reg/ $30 late
The committee is requesting at least 1-5 adults from each pack to help run as station. Please contact Lani Louk at lani1410@yahoo.com for duty assignments prior to attending