Wood Badge

Wood Badge is a leadership training course which delivers high quality skills and techniques for leaders in all areas of Scouting. It draws from a wide range of sources within and beyond the bounds of Scouting to model the best techniques for developing leadership and teamwork among both young people and adults.
Because it was begun by Baden-Powell in England in 1919, it is clearly backed by the finest thought and tradition of the founder. Wood Badge is a great force for world brotherhood and provides leadership for Scouting and leadership for America.
Attendees
To attend a Wood Badge course, individuals must:
Be registered members of the Boy Scouts of America. (Youth older than 18 may attend as long as the appropriate Youth Protection guidelines are followed. They do not need to be registered in an adult leadership role.)
Have completed the Basic Training courses for their Scouting position.
Be capable of functioning safely in an outdoor environment. All participants are required to complete the Annual Health & Medical form.
Wood Badge is for Scouting leaders from all areas of scouting…Cub Scouts, Boy Scouts, Varsity, Venturing, and leaders with ecclesiastical leadership positions. Wood Badge benefits anyone in a leadership position.
Learning Objectives
Wood Badge teaches leadership techniques in a hands-on environment which you will be able apply to your Scouting involvement and your personal life.
As a result of attending Wood Badge you will...
View Scouting globally, as a family of interrelated, values-based programs that provide age-appropriate activities for youth.
Recognize the contemporary leadership concepts utilized in corporate America and leading government organizations that are relevant to our values-based movement.
Revitalize your commitment by sharing in an overall inspirational experience that helps provide Scouting with the leadership it needs to accomplish its mission on an ongoing basis.
Apply the skills you will learn from your participation as a member of a successful working team
---
2019 Course Information
Spring Course- Lost Bayou Scout Camp
February 8-10, 2019
March 8-10, 2019
Registration Fee
The individual fee for attending Wood Badge is $200, which includes all you meals, course materials, and those coveted Wood Badge beads.
How to Register?
Complete the online registration form and use a credit card to make your payment or download an application. Applications are also available at the Evangeline Area Council office.
When you complete your application, return it with a $60 deposit or your full payment of $200 to the Evangeline Area Council office. Your application must include at least a partial payment to be considered, and the first 48 fully paid Scouters who meet course requirements will be confirmed for the course.
Refund Policy
Early cancellations will result in a full refund less the $60 deposit. A $100 refund will be given after the early deadline and the beginning of the course, and a $50 refund will be given to those canceling between Week One and Week Two. No refunds will be given after the beginning of the secound course weekend.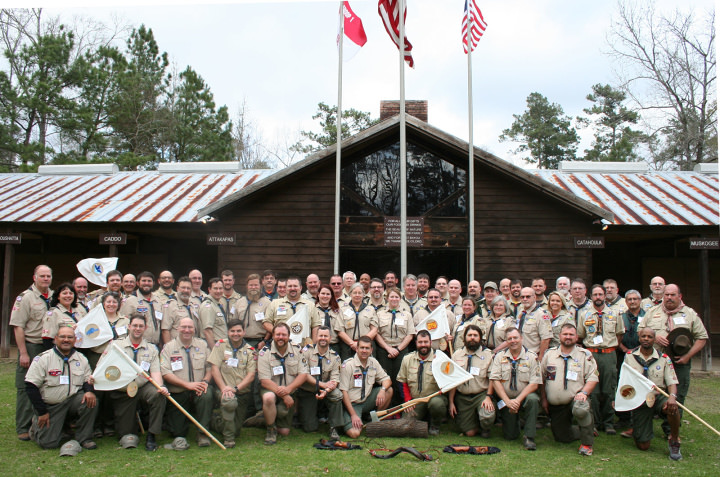 | File Name | Description | |
| --- | --- | --- |
| 2019 EAC Wood Badge Brochure | | Download |