Camp Cards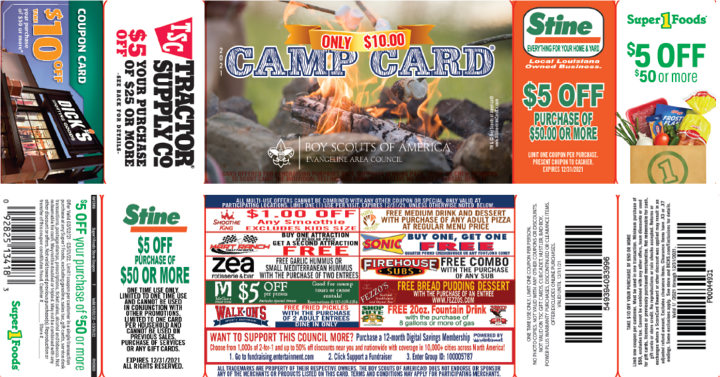 2021 Camp Card Sale
A Scout is Thrifty! Have your Scouts earn their own way.
The Camp Card initiative is designed to help Scouts earn their own way to a summer/day camp program. Camp Cards will be distributed to Units the beginning on Monday, March 8th with the sale beginning Friday, March 12th. Money/Unsold Camp Cards are due to the Scout Office no later than Friday, May 7, 2021. Don't miss this opportunity to use the sale as a chance to train Scouts in public speaking, sales, and service! Your Scouts and parents will appreciate the effort, and your sales will improve!
Each card sells for $10
Units earn $5.00 in commission for each sale
NEW & EXCITING offers!
Card includes discounts from local businesses
Each card features 4 one-time use snap-offs and several multi-use discounts on the back
Units can return unsold cards; THIS IS A NO RISK FUNDRAISER!
For more information, contact Lauren Taylor at (337) 235-8551 x 114.
---
Important Camp Card Sale Dates:
March 8: Camp Card Distribution Begins
May 7: Deadline to earn 50% commission - Money/Unsold Cards due to Scout Office
May 14: Deadline to earn 40% commission - Money/Unsold Cards due to Scout Office
| File Name | Description | |
| --- | --- | --- |
| 2021 Camp Card Guidebook | | Download |